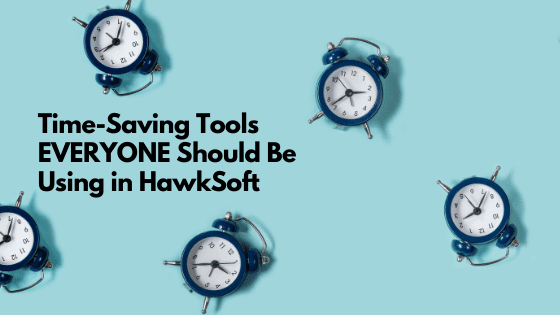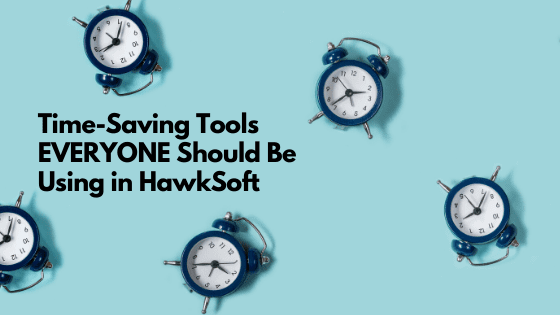 Time-Saving Tools EVERYONE Should Be Using
Often in an agency, the operations manager, the agency owner, or a motivated employee will go to a conference or attend a webinar and learn all sorts of new things about the HawkSoft CMS system.  These things save time and make life easier!  Hopefully, these things are shared with the rest of your office.  However; have you ever been reviewing something in a staff meeting and suddenly someone says, "wait a minute…what did you just do there?"  As much as we try to educate our staff, there are gaps.  Someone was on vacation; someone had to talk to the customer about their urgent claim during the meeting, sometimes there was just too much information and they missed something.  So, it helps to periodically review some of these time saving tips.
As an agency managing partner and a HawkSoft mentor, these are things that I consistently see people missing out on.
#1 – Templates
If you ever find yourself typing the same thing over and over, you should be asking if there isn't a place in HawkSoft that you can add it as a template.
Click on the Gear button in the upper right-hand corner to create Correspondence Templates (Form Letters, Email, Text Messages and more).
You can also use the Gear button to go to the Customize List templates. So many things can be customized to your agency…. Attachment Categories, Sources, Suspense Categories, Suspense/Log Templates to name a few.
I strongly suggest you talk to your agency employees and find out what they are doing most often and determine how you can set up a template for those items.
As a bonus, I've shared my list of Suspense/Log Templates (pencil button in the activity log) on the HUG Template Library. You'll have to log in or create an account to access this information.
#2 – External Tools
Do you use Chrome, Internet Explorer, Godzilla….sorry, Mozilla Firefox?  Then I assume you save specific websites as "Favorites/Bookmarks."  Well, you can create links to these from within HawkSoft.
Click on the Gear button ->select Computer Specific Settings ->External Tools
Click New to add an External Tool.
Enter the Name, Website (not program), URL of the website.
Now these items will show up in HawkSoft. You never have to exit the software! This is something that has to be set up at each computer, just like your browser favorites do.  Most of our External Tools are:

Auditors or real estate look up websites
Vendors (i.e. Rocket Referrals, Insurance Agent App, FormStack)
If you handle commissions – carrier website reports page
State crash report or VIN search website
Your agency Facebook page (to make posts)
#3 – Website Link "Hot Button"
Need to visit a company website about 100 times per day?  Ok, let's make this easy.
Go to the Gear button in the upper right-hand corner of CMS (are you seeing a pattern?) and select Policy/Company Setup. You'll have to do this for each tab (Auto, Home, Boat, Mopro, Commercial/All Other), for each carrier, for each state.
Select a Company/Carrier and click Edit -> Company Website. In the Website field, paste the  URL of the carrier website page that you want to "land" on. (Billing screen, Claim screen, Policy Look up screen).  Test it to be sure it goes where you want it to and then go to a client screen and give it a try.  HawkSoft will take you right where you told it to based on that URL and the policy tab and carrier that you are on when you click that button.
This setting is agency wide so all users will utilize what you put in the Policy/Company Setup.
#4  – Carrier Manual
Do you ever need to check the company manual to see if XYZ is covered?
Go to the Gear button in the upper right-hand corner of CMS and select Policy/Company Setup. You'll have to do this for each tab (Auto, Home, Boat, Mopro, Commercial/All Other), for each carrier, for each state.
Select a Company/Carrier and click Edit.
On the tab for Company Info, in the Manual Cmd Line, enter the URL from the company manual.

Make sure that when you set this up, you go all the way to the manual that you want to land on (auto/home/commercial) so that it is the most direct path.
#5 – Virtual Printer
Some people go to a website, print an application to the printer, scan it, then attach it to the client file and/or email.  Let's cut those steps down using the Virtual Printer. Not only does this save time, it saves paper and trees!  Let's use the example of multiple applications on a carrier website that will require signatures:
On the carrier website, go to where you would typically print your application (or for those of you on the cutting edge, save to .PDF) and print but select the Virtual Printer. This will then give you the option to attach this application to the proper client, the proper tab. Now don't panic, if you don't already have the client pulled up in HawkSoft.  Simply use the "Search" option and find it that way.  Attach it and then go back for your next application and repeat. Continue this until you get all the applications you need.
Go to your Client File In CMS, click on the Attachments area, make sure you have a check mark in Show attachments for all policies.
Ctl+Click on the multiple items you need to send.
Right-click->Email->Send as Attachments to initiate an email or e-signature option with all of the documents sent as attachments.
This was a fairly high-level overview of these areas.  If you would like to watch the entire webinar, click here.  If you need help; contact HawkSoft Support.  They are extremely helpful.  But don't forget your staff.  You need to reflect with them on the things they are doing repetitively to see how you can help them reduce their clicks and steps.
By:  Kelly Endicott, Managing Partner at John Dawson Associates in Columbus, OH & Jennifer Thompson, HawkSoft User Group
Click here to see the list of recorded webinars.  A user name and password are required to view the webinar.  You can set up your user name and password here.