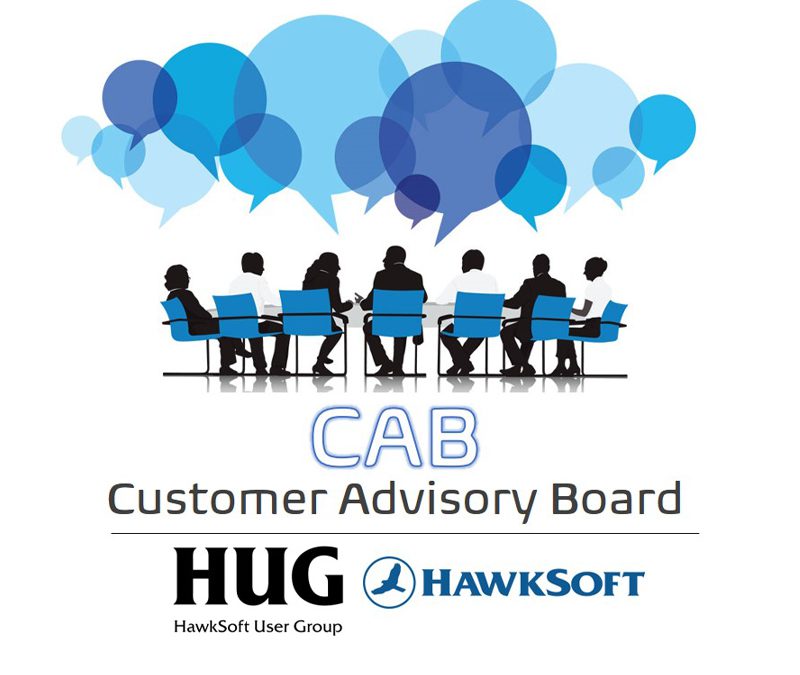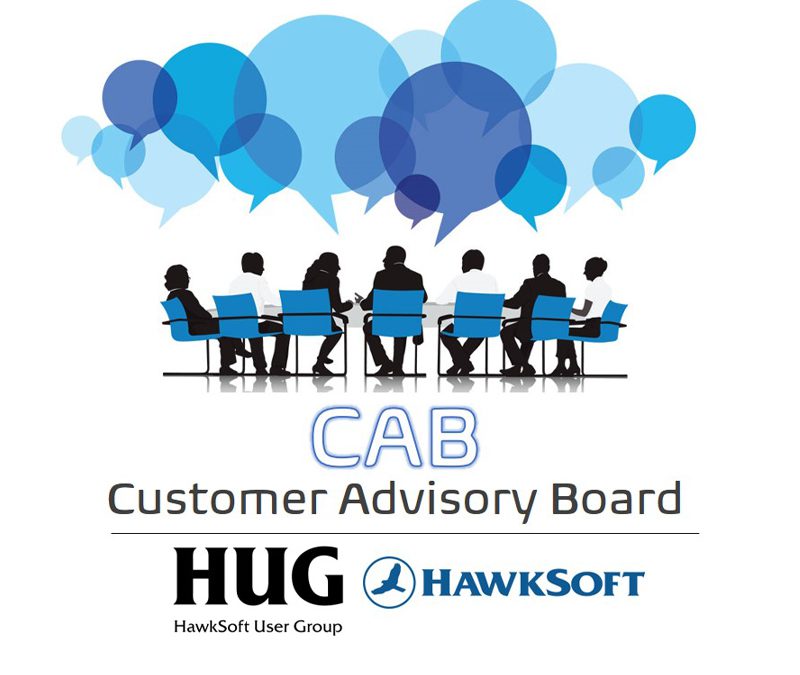 Customer Advisory Board program, "CAB" for short. We just launched our first three Customer Advisory Boards aka "CABs" in August. This was made possible with the help of an amazing team of HawkSoft Product Developers (led by Javier Torres), our fearless HUG leader, Amelia Jach, Jerry Fox (HawkSoft – Carrier Relations), Kenny Hendricks (HawkSoft – Marketing), and Celia Cross, co-owner of Cross Insurance Agency and HUG Board member, acting as the HUG representative and CAB Liaison.
I am very honored to be writing this article, to inform all of our HUG members of such a great opportunity, we have as customers. 
What is the Customer Advisory Board program, "CAB" for short?  It is an ongoing customer advisory group, made entirely of HawkSoft users.  The opportunity gives us, as users, the ability to provide real life feedback, ideas, and opinions of specific forward-thinking projects that the HawkSoft Product Development Team are doing in real time.   
Why does this benefit me? 
Produce results and solutions from the requests of 

HawkSoft

 customers

 

Advisement toward development on workflows

Obtain early access to product releases

Location of information

 
Why a customer advisory board? From prior experience, customer driven advisory boards are the best way to remove the company/political influence out of the process. 
Who makes up a Customer Advisory Board (CAB)? Each CAB is made up of a HawkSoft Product Owner, a CAB Lead, and the CAB Candidates/Members
What Is An Ideal Customer Advisory Board (CAB)?  
The ideal CAB is a representation of agencies by a variety of regions, sizes, and mix of business (Commercial/Personal/Life/Health)

 

The ideal CAB size is a minimum of five members with a maximum of ten members for each CAB

 

The ideal CAB has a continuous rotation of 

active

 CAB candidates, providing advice focused on a particular CAB

 
How much time must I commit? It will vary depending on the project, but we are all aware that you, as agents and HUG members, have other commitments, so we will be mindful of your time, just as other volunteer positions.  
What if I want to be part of a CAB, but don't see one to join at this time, or I just don't have the time right now?  Don't worry, there are going to be continuous CABs throughout the months and years and a frequent rotation of CAB members is important to provide fresh experience and perspective.
Want to be part of the next Customer Advisory Board or "CAB"? Now is the time.  Put your name in the hat and submit an application.  
Please note: HawkSoft and HUG put out a request for CAB members (survey) in May and received over 80 applications.  We are working through those now, but more are welcome as we'll be setting up more CABs (topics) and rotating out members as needed.
CAB Application - Click Here
Want to know more about the CAB program? Click here to find out more about the program

My nervousness subsided as I introduced and welcomed our first CAB members and HawkSoft Product Managers (this month) through Microsoft Teams.  It was so rewarding to see other agents share and collaborate their ideas on something that will better our industry, independent insurance agencies, and users of HawkSoft.   
I am excited to see the continuation of this program for many years to come. Here is to the future and  HawkSoft Customers Helping Develop Better Solutions via  the Customer Advisory Board Program or "CAB"! 
Celia Cross
Cross Insurance Agency
www.crossinsuranceagency.com
Olympia, Washington