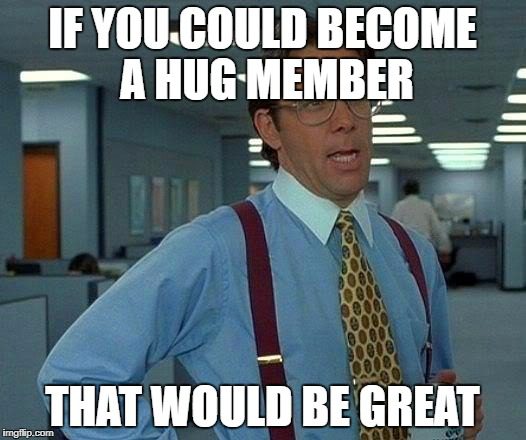 21% of HawkSoft agencies have become members of HawkSoft User Group (HUG) this year.  HawkSoft User Group was created by HawkSoft users and is all about users.  We want to help users utilize the HawkSoft CMS system to its maximum capacity.  We're doing this in a variety of ways:  National and regional education meetings, HUG Facebook page where agencies post questions and receive answers from other agencies, and a webinar series, just for a start.
If you haven't become a member yet, I assume it's because you were simply unaware of our existence.  But now that you know, please join!  It is FREE for an agency to become a member in 2017, and by becoming a member, you are demonstrating that this kind of organization has value to you as well.  Becoming members also allows HawkSoft User Group to communicate with you directly.  To become a member, click here and spend about 1 minute to complete 5 fields.  HawkSoft User Group members will receive discounts and advance notice to HUG events this year.
Save the Date

The 2018 National Conference is happening in Las Vegas, Nevada on April 26 – 27, 2018. We are growing! Last year, 272 attendees made their way to Sandusky, OH for the National Conference.  This year we have room for up to 400!   Registration will open in January 2018.  Mark your calendars this two-day event.
Regional Meetings
This year we are planning 6 regional one-day education events in the following regions.
HUG of the Northeast – Syracuse, NY
HUG of the South – Tampa, FL
HUG of the Great Midwest – Dubuque, IA
HUG of the Pacific Northwest – Seattle, WA
HUG of the South – Houston, TX
HUG of California – still looking for a local HawkSoft user to help us find a location for this event (If you are interested, email Jennifer Thompson at info@hawksoftusergroup.org)
We are still in the planning process, but expect these meetings to take place in October/November of 2017.  As soon as a venue and date are established, we will communicate this information out to HawkSoft users.  Space will be limited and HUG members will receive discounts to attend, so make sure you become a member now!
Webinars
At the National annual meeting, we invited several HawkSoft partners to present information to increase understanding of their products.  We found that agencies and partners found this very beneficial and want to offer up this information to agencies who were not able to attend and expand to additional vendors.  We've asked each partner to provide some educational content in which they are experts that relates to the insurance industry.  Then they will delve into their own product and what they have to offer.
July – learn about Digital Marketing Co-Operatives with Carl Moulton
August – Matthew Smith of Rocket Referrals will present "Elevating Client Relationships using a Single Question."
ITC and Kotter Group will be participating in the Fall webinars.
Facebook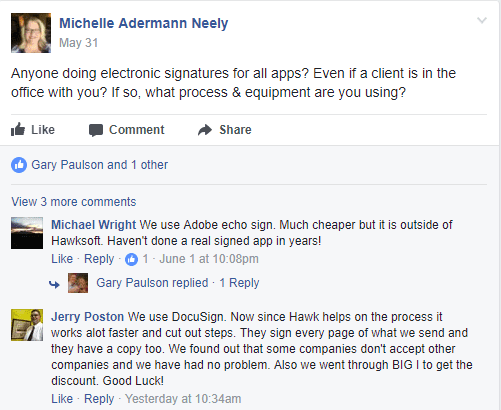 488 individual HawkSoft users have joined the HUG Facebook group. This is an outstanding way to connect with other HawkSoft users immediately and to share information with each other.  Besides checking out the news feed, I encourage people to view the Documents and Videos areas.  Users have been sharing training videos, agency procedure manuals and digital signature research in these areas.  Go to our group and ask to join!