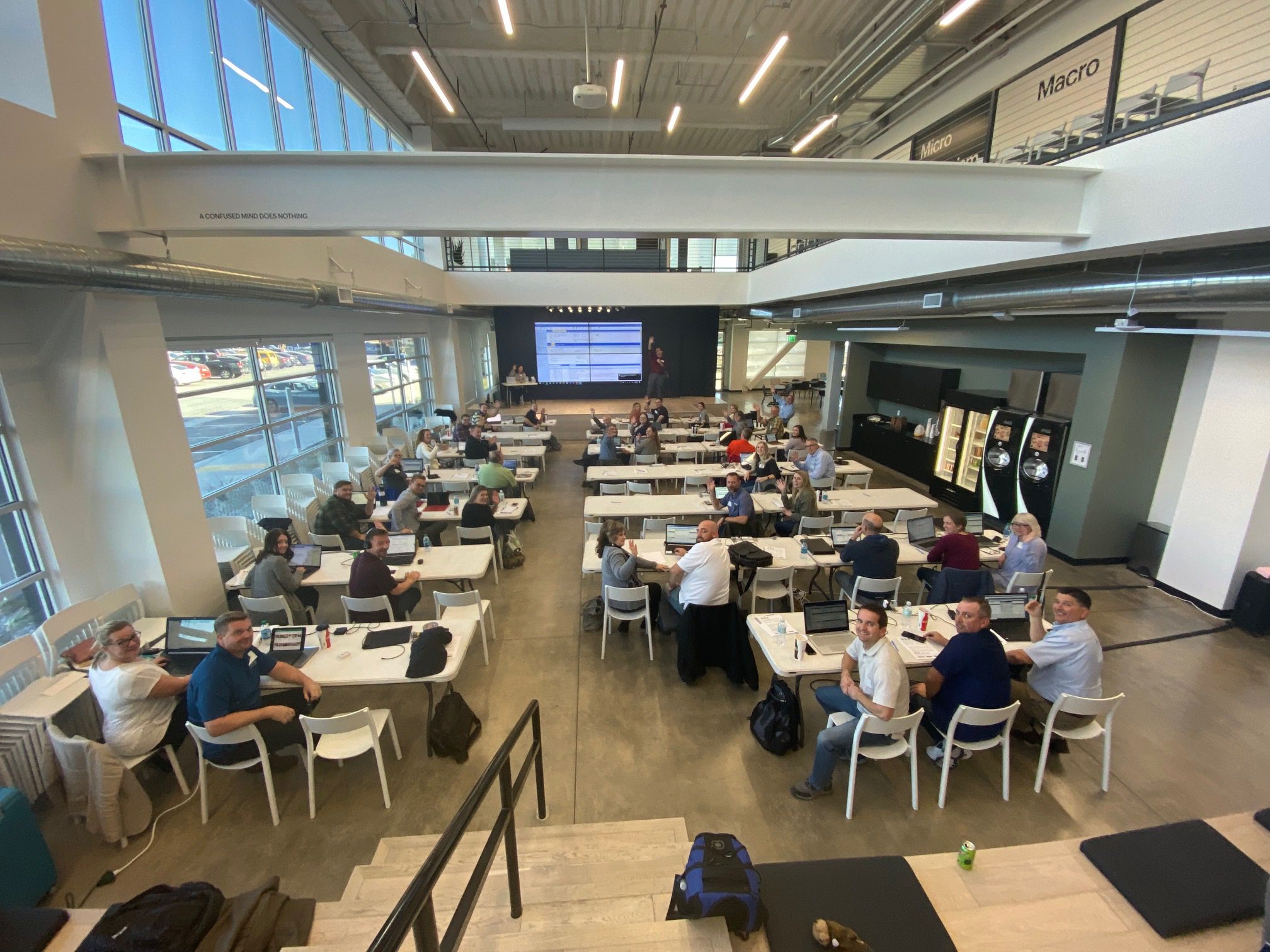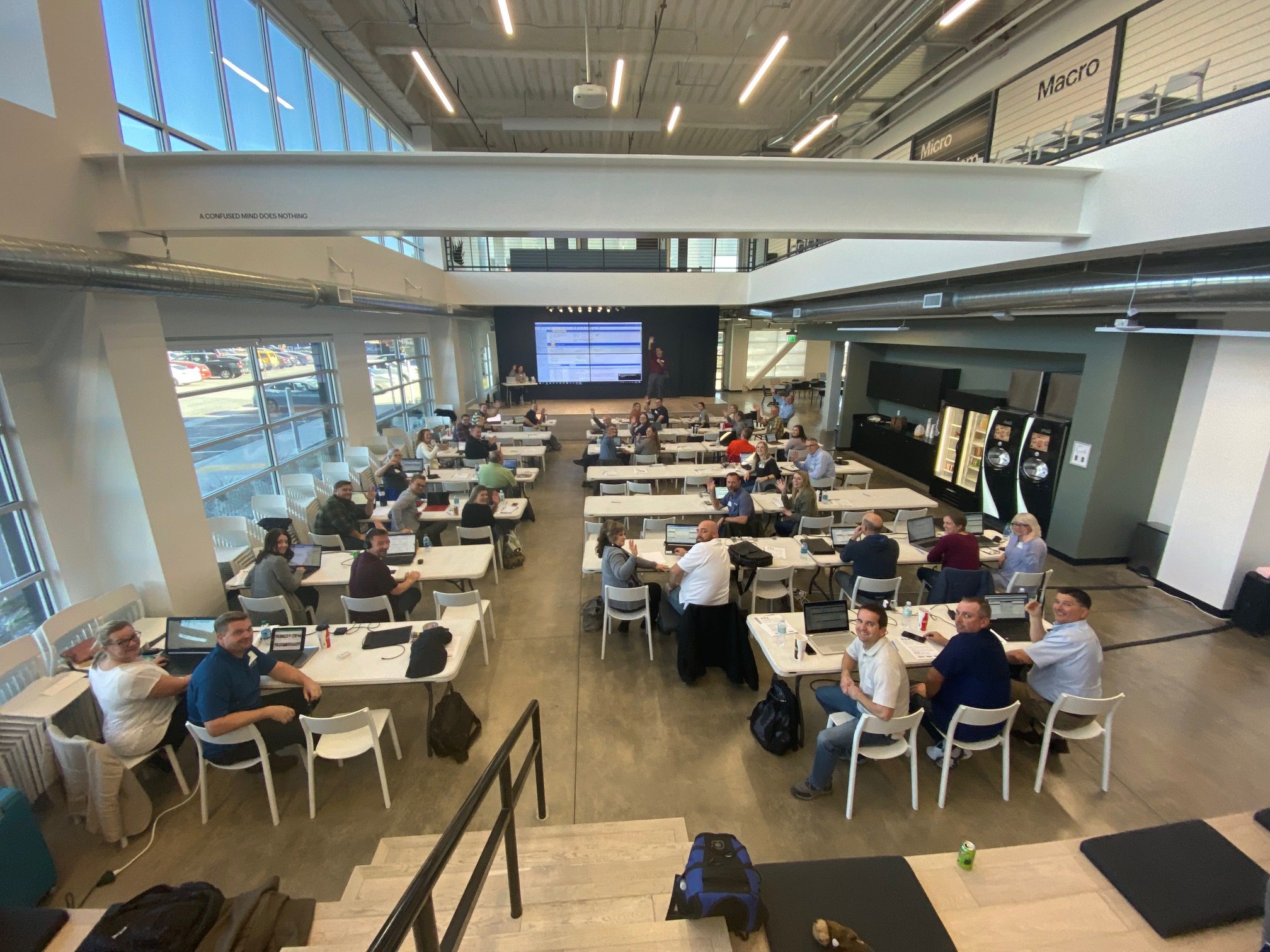 Survey Results were VERY favorable across the board in all categories, but overall, the highlight was asking attendees about the Knowledge & Value they received…Score of 9.4 on a 0-10 Scale.
"The session has been very beneficial for our agency. Cindy Steinbach provided an insightful, easy-to-understand walk through of the database cleanup steps we need to take in order to properly use what Hawksoft is, and will be, providing our agency. Paul Hawkins and Kenny Hendricks provided a clear preview of the exciting near-term HawkSoft enhancements on the way. Upgrades are steadily rolling out and the time was well invested learning about these enhancements. Highly recommend for all HawkSoft users!"

Gregg Germanos, Northwest Insurance Services
"I was surprised at what a great event this was and HOW good it was. The content was extremely relevant and helpful. The presenters were fun and entertaining, and the venue was beautiful. A true homerun! It is rare to get so much value from an event. "

Chad Young, Young Agency
"I really liked the hands-on meeting. I was able to apply fixes quicker when I returned to the office.""

Anonymous
HawkSoft User Group (HUG) just wrapped up its Fall season of regional meetings in eight cities across the country, where we presented a database cleanup workshop, as well as HawkSoft's new Text Messaging offering.  Almost every city sold out!  Attendees learned why and how to clean up their databases in a hands-on workshop, where they got into their systems onsite, ran reports, and saw the real value in clean data.  Accurate data produces accurate reporting that helps you be successful in running your business and more easily see opportunities for improvement, change, and growth.  The mantra for the session was, If you don't know your numbers, you don't know your business.
The agency benefits of this database cleanup workshop series included:
Accessible, accurate information for better customer service
Accurate reporting of premiums (for carriers, LOBs, producers, etc.)
Evaluation of lead sources on new business written
Cross selling opportunities and reviews
Efficient client communications across multiple sources
Valuation of your book of business; and more
Almost 400 HawkSoft agents/HUG members across the country –representing 24 different states – attended the eight regional meetings in West Bend (WI), Cincinnati & Cleveland (OH), Seattle (WA), San Ramon & Orange County (CA), Dallas (TX), and Lehi (UT).  These attendees represented 260 different agencies using HawkSoft as their agency management system.  50% of attendees had never been to a HUG meeting before, so it was wonderful to see new faces, meet new HUG members and friends, and renew old friendships.  50% of attendees were agency owners, and every role in an agency was well represented: accounting officers, CSRs, producers, office managers, etc.
Attendees worked in their systems and followed the provided database cleanup guide under the direction of awesome instructors – HUG members like yourself – including Cindy Steinbach (Mayville Insurance) in West Bend and Seattle, Kelly Endicott (John Dawson Insurance) at the Ohio meetings, and Stephen Harrington & Celia Cox (Cross Insurance Agency) at the California, Utah, and Texas meetings.  HUG would like to thank them (and others who assisted onsite) for their service to the HUG community and time away from their offices.
"I really liked the workshop format. That way, attendees were able to get hands-on learning, which is personally how I learn. "

Anonymous
"This was a great meeting – I met new HS users and got a lot out of the meeting. Very well managed as it was small enough to allow give and take from meeting managers and participants."

Kelly Densberger, Christa Granton Insurance Services
"This was one of the best meetings I have been to. I liked having the hands-on training and the step by step instruction packet is so valuable. I have already cleaned up most of my data and now have the tools to keep it clean! Thank you!"

Tammie Burns, Burns Insurance Agency
In preparation for the HUG regional meetings, a stellar group of agents (primarily from Ohio) gathered over the summer to develop the presentation content and materials that would be covered.  HUG would like to thank them for their time and service, including:  Mark Kesner, Kaila Williams, Kelly Endicott, Jamie Kline, Rodney Cook, Sandy Gasser, and Stephen Harrington.  Special thanks to Cindy Steinbach (HUG President, WI) and Pat Lamb (HUG Secretary, OH) for organizing this effort.
HUG would also like to thank the HawkSoft staff who presented on HawkSoft Text Messaging: Ken Scheel, Kenny Hendricks, Sean Hawkins, and Brandon Oliveira.  In addition, thank you to Jennifer Thompson (HUG) for putting together the database clean up guidebook – all attendees received a copy.  Attendees also enjoyed meeting and learning from Paul Hawkins, CEO & Founder of HawkSoft, who attended almost every city.
Lastly, HUG would like to thank the vendors/sponsors and hosts who supported these regional meetings.  In four cities, we were hosted by vendor partners including: Podium (Lehi), Safeco (Seattle), Social Survey (San Ramon) and West Bend Insurance (West Bend).  Sponsors in the other four cities included: Lightspeed Voice, ITC, SBL Consulting, Mythos Technology, PIIB, Podium, InsuredMine, Insurance Agent, Agency Transformation, Aspire, Iroquois, Forge3, Cypress Premium Funding, IVANS, The Hanover Insurance Group, Agency Revolution, Windshield Center (Wisconsin), and OIA.
Learn More about Data Cleanup
If you were not able to attend, don't worry – you'll have another opportunity! Stephen Harrington will be teaching 4 different database cleanup sessions (mirroring what was taught at regionals) during the National Conference in Orlando in April.  And if you did attend, the 4th session will be NEW content – so join us for the last one (day 2 of National).  Information and details will be included when the final agenda is announced in the coming months. 
The database cleanup guidebook (a step-by-step guide to keep your agency's CMS data clean) will be made available to all HUG members after the National Conference in April, and will be accessible under the "members only content" section of the HUG website.  If you don't currently have access, you can request it by going to www.hawksoftusergroup.org/join (first join HUG if you haven't already – it's free) and set up a username and password to access some of the content on the website.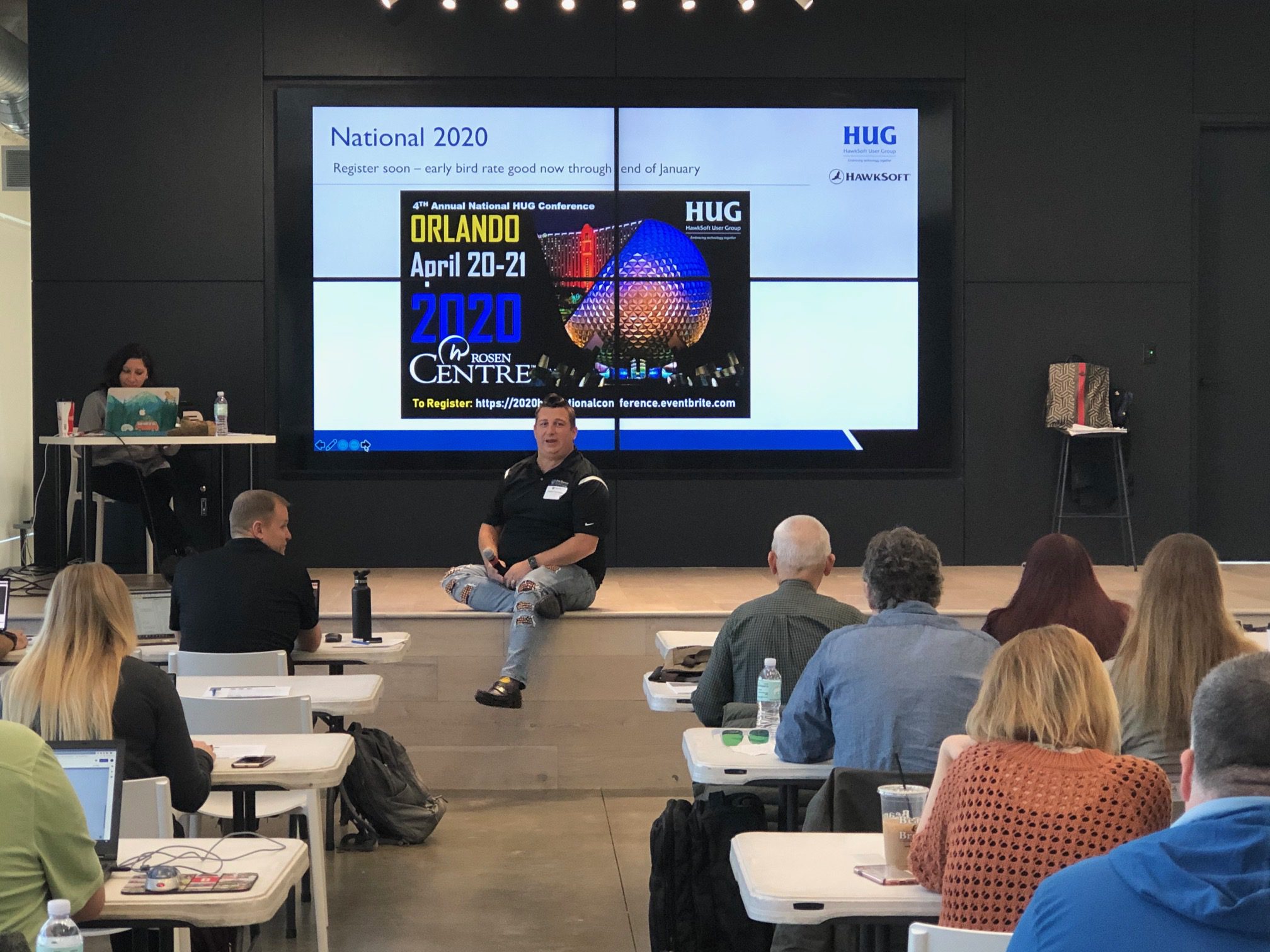 National 2020 Conference
We hope you will join us at the next HUG meeting opportunity: the 4th Annual HUG National Conference in Orlando, Florida, on April 19-21, 2020.  Tickets are still available. Register by January to get the early bird rate ($325) before the price goes up to $385 on February 1.  Go to: https://2020hugnationalconference.eventbrite.com.
Topics at National 2020: click here to check out the topics that will be presented at  National 2020 – the final agenda will be available in January.
And, if you're staying at the hotel, there are still some rooms left. HUG negotiated a room rate of $169/night.  Based on availability but must book by March 2 to guarantee the rate. Book your room here.
As we wrap up 2019 and look forward to 2020, we wish happy holidays to all HUG members!
By:  Amelia Jach, HUG Marketing & Events Manager