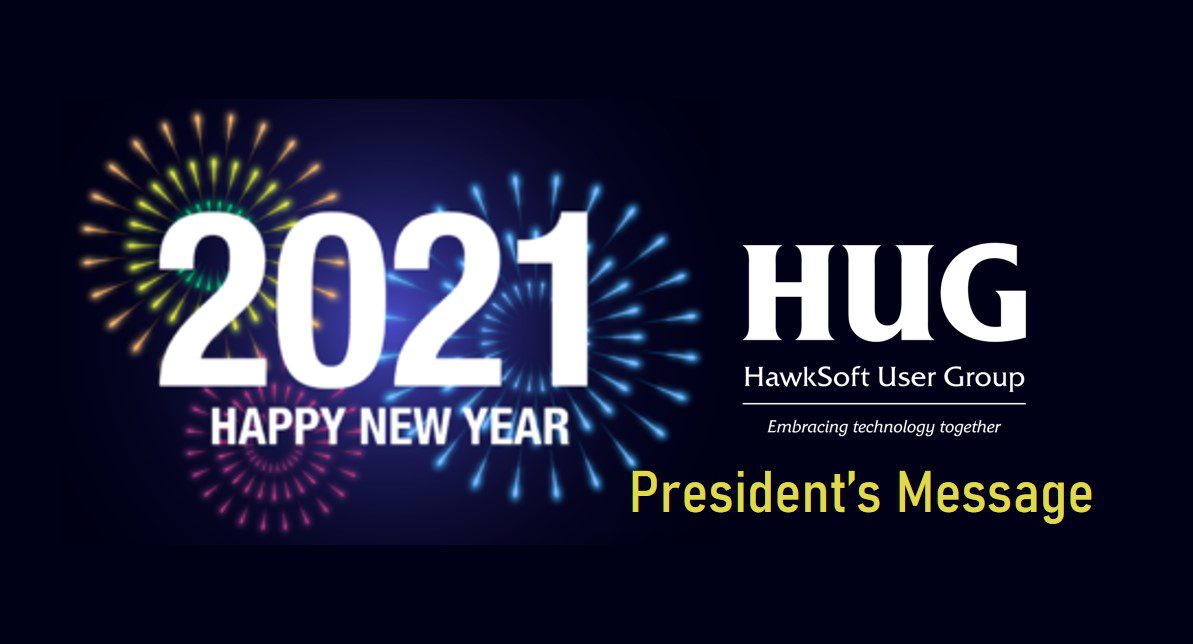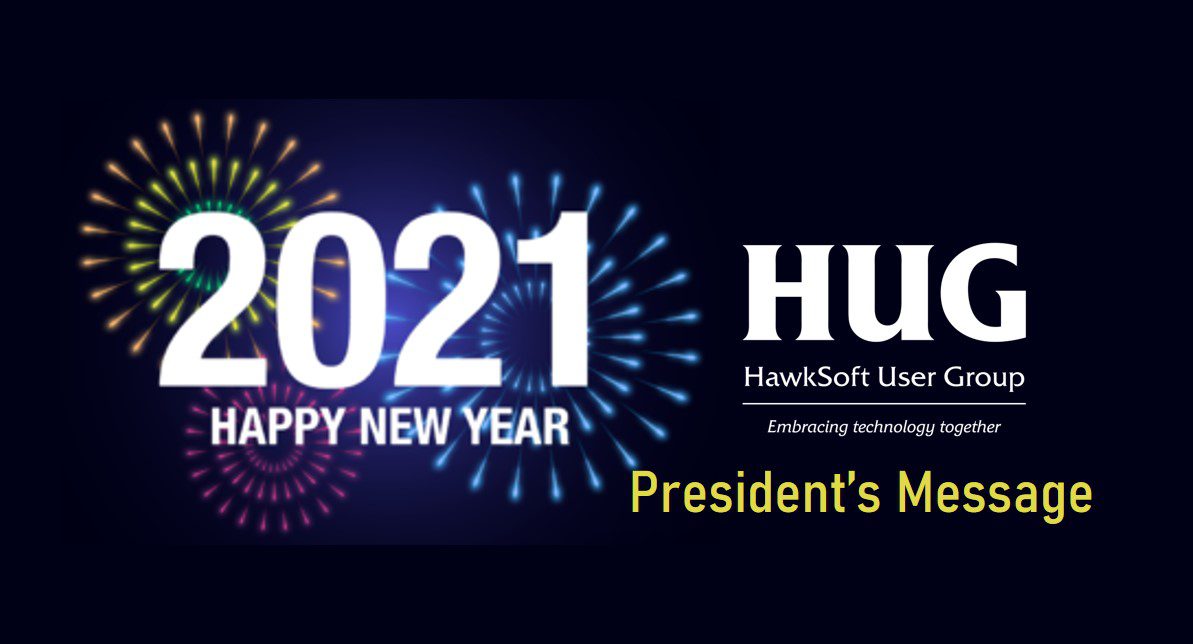 Dear HUG Friends,
2020?  Hmm…..  How would you rate last year?
Needless to say, it was different.  BUT…..
If you are reading this I would say life is good!  With all the news coverage concerning COVID-19 and our bizarre elections, I hope you and yours have been able to get through this.  Our condolences to those that have lost loved ones and/or friends.  
Let's talk about HawkSoft and insurance for a moment.  Some have done well and some have survived.  We ALL HAVE LEARNED "you are on mute", working remotely means you never know who is walking in back of you and "stay safe" means more than just watching out for hazards!  We have had to make adjustments to the way we do business within our agencies, with our carriers/underwriters, and with our clients.  
Anyone ZOOMED OUT???
Yeah I thought so.
One thing that has maintained consistently available to help is HAWKSOFT and HUG (HawkSoft User Group).  They continue to grow and move towards the cloud along with new releases designed to make using HawkSoft easier and more efficient.  Your user group continues to work to add to our library, holding stellar webinars with great content, making onboarding to HS easier, hooking new users up with existing agencies that "have learned the hard way" and host  opportunities to learn and network (if I hear VIRTUAL one more time….)!!  And how about the days when we actually thought about what to wear to work?
Yes. We will continue to work for our fellow users.  We keep our pulse on the industry we all feel fortunate to be a part of.  We want to continue to improve the HawkSoft experience and continue to push HawkSoft to be the absolutely best agency management system out there while maintaining its family type atmosphere and its exceptional customer service to its users.
On behalf of all HawkSoft users, we want to thank John Morton (CA agent) and Gary Paulson (WA agent) for their contributions to the HUG Board of Directors, as their 3-year terms have just concluded, but they will continue to be involved in HUG, as always.  And, the HUG Board of Directors wants to welcome newly-elected, Bogus Handzel (IL agent) and Mike Tonsetic (FL agent).
Lastly, by now you've received the news of our HUG National Conference date change (now October 18-19, in San Diego) – so I hope you will mark your calendars and plan to attend – you won't regret the investment into your business.
So here is to 2021, to your health and those you love and care about, to the success and growth of your business and to the long wished for opportunities to actually network face-to-face!  (fingers and legs freakin' crossed!)
Cheers!
Mike Skeele
HUG Board President