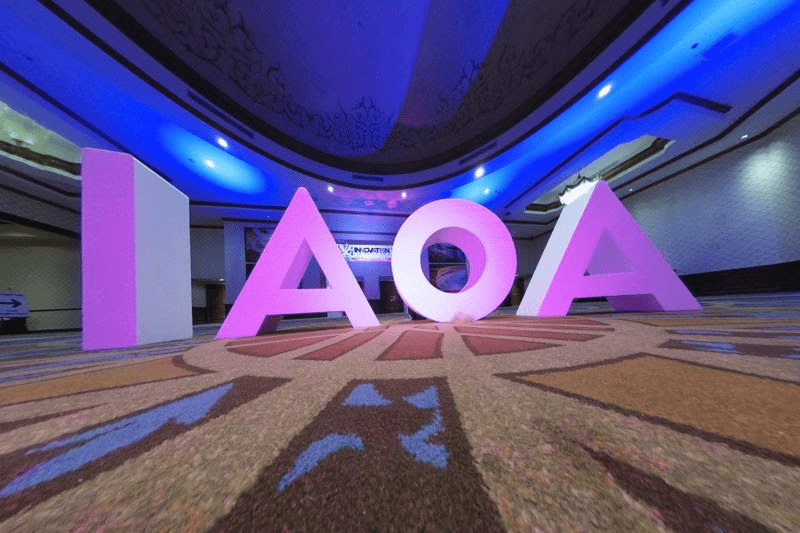 INNOVAT19N – 2019 IAOA Conference – Better Together

I just returned from Innovat19n, the 4th Annual conference of the The Insurance Agency Owners Alliance, better known as just "IAOA". It is one of two conferences I schedule to attend each year come rain or shine (the other one being HUG). The conference is quite unique which is why I wanted to share my conference experience and then tie it in with the upcoming HUG conference.
 But you may be asking, "What is IAOA?" Very simply, IAOA is a Facebook group. There are no joining fees or annual dues. The only membership requirement is that you must be an owner of an independent insurance agency. The group was started in 2014 by a couple of agency owners who thought it would be a great way to share ideas. I joined back in March 2015 when there were around 500 members, today there are over 5,000, and have been able to attend all four Innovation conferences. 
The group's stated purpose from the Facebook page is to "share ideas, successes, challenges, and more that are unique to the IA business.  From one man shops to large regional brokerages, we can all learn from others to help improve our businesses. Through SELFLESSNESS, INNOVATION, and COLLABORATION – we believe that we are all better together."
What makes the IAOA conference unique is that all of the presenters on stage are agency owners. All sharing from their personal experience of what has worked for them in their agencies. No rah-rah motivational speakers (although you will be motivated) and no vendors trying to sell their services from the stage in cleverly disguised infomercials (although they are just down the hall), but only other agency owners who show up at the office each day and are attending the conference to participate just like the rest of the attendees.
Selfless Sharing
Attending the Innovation conference each year is a "no-brainer" for me because within the IAOA are some of the greatest minds in the insurance business, and they selflessly share their knowledge and expertise. Lest you think I am limiting myself to the speakers on stage, I am not. 700+ of the greatest minds in the insurance business were at Innovat19n, sharing ideas with each other during the breaks, at breakfast, at lunch, and at dinner. 
I have a friend who orders fish & chips every time we go out to eat because he loves tartar sauce. He would order just tartar sauce if he could, but it looks foolish dipping your fingers into the sauce, so he uses the fish & chips as a "delivery device." I contend that at conferences, the speakers are really just the "delivery device" for what is truly valuable, the time spent around a table sharing ideas with others in your same shoes. 
Sure, speakers will share great ideas, and you will write and plan to implement, but it is the relationships that we make between the sessions that are most valuable. These are the people who will hold you accountable, who will continue to motivate you through the coming months, and who will grow along side of you in the coming years. These relationships don't end when you get on the plane to come home but continue with phone calls, video chats, and online.
Innovat19n Presentations
There were a number of great presentations this year, I will only mention a few.
It opened with Brandon Smith sharing how he turned an opportunity to sponsor a youth baseball team into an opportunity to make a difference in some young boys' lives by going above and beyond getting his agency's name on some swag.
Matt & Zack, of BobbleOn fame, discussed how to move beyond selling to operating a business and then followed up with a presentation about how they generate 6,000 organic leads each year. Google it if you don't know who they are. 

Social media was a hot topic. I attended the breakout sessions on how to use Google Ads by Jerry Niclow and how to gain visibility online using Google My Business by Travis Gensler, but Jason Verlinde made us all laugh with his "Don't be like a 15-Year-Old Girl on Social Media. Why Imperfection Can be Perfect" presentation on how to use video to get your agency seen.

Jason Cass, who was the keynote speaker at the 2017 HUG conference, gave a very riveting talk on "The Great Separator," dealing with the various insurance agency business models and the direction, he feels, an agency needs to go to be successful in the near future.
HUG Conference
The HUG conference has many similarities to the IAOA conference and that is why it is also on my "not to be missed" list. Like the IAOA group, we all have a common bond, HawkSoft. We all attend hoping to learn more and better ways to use the management system as well as to scout out vendors who can add value our agency.
For those of you who are attending the HUG conference in April, go to as many of the presentations as possible and learn as much as you can but make it a point to listen for others who are on your same journey and introduce yourself. My former business partner and I had a rule when attending events of any size. We would never sit at the same table. First, it allowed us to listen to twice as many ideas but second, it kept us from being introverted. Do the same, make new friends, learn from the speakers but more importantly, learn from each other. I challenge you to make a list of 5 people who show up as attendees on the Whova mobile conference app. Track them down and say hello, or say hello in advance on the Whova app, and set up  an appointment to meet in person during the conference. The relationships you develop and the memories you make will be priceless.
Gary Paulson
Mid-Columbia Insurance
Kennewick, WA
gary@midcolumbiainsurance.com 
Phone:  (509)783-5600
www.midcolumbiainsurance.com    
FYI: the 2019 HUG Conference in Las Vegas, NV (April 4 – 5) is currently SOLD OUT.